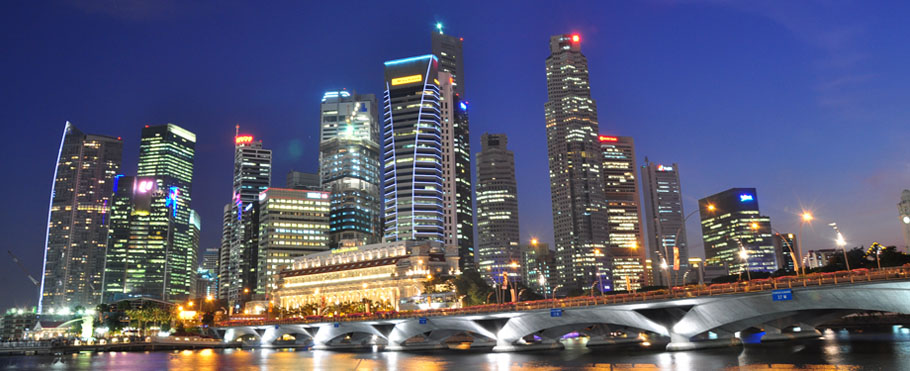 With unique cultural traits and advanced and complete infrastructure, Singapore boasts to have the best study and work environment in the South East Asian region. In hopes of becoming the education hub of the region, Singapore has built a dynamic platform for personal growth, career development and intercultural exchange. The living environment in Singapore is second to none in the whole of Asia and leads the rest of the world in terms of educational, shopping, sports and recreational facilities. Being a study and research hub, Singapore has an abundance of libraries, museums and book stores, and has an extremely convenient transport system.

The Charm of Eastern and Western Colours
Singapore is the perfect place where East meets West. She not only makes you feel like you are in a home away from home, but also inspires you during your stroll in the outskirts of town. This beautiful city fuses both modern and traditional, developing and harmonising the two. Singapore is an extremely unique place. With a total land area of just 710 square kilometres, and 5 million permanent residents, she radiates limitless vitality.

Multi-racial, Multi-cultural
This country gathers together Chinese, Malays, Indians and other minority races; different religions, cultures and languages blend and co-exist harmoniously here. The interactions among different races offer international students a rich and vibrant choice of lifestyles and recreation in Singapore.

Modern and Safe Tropical City
Singapore is a very safe city with a low crime rate; her highly advanced lifestyle conditions are well-known worldwide, making her an ideal choice for international students seeking further studies. Despite a hectic study schedule, there is hardly a lack of sports, recreation and other alluring sights and sounds that relax your mind and tug at your heartstrings. Singapore's weather is warm and humid all year round, with temperatures ranging around 23 - 33?C. She receives adequate sunshine and occasionally has rainy days, especially during the end of the year. Students can take part in a plethora of activities during their leisure time, and head to tourist attractions including Sentosa Island, Jurong Bird Park, Singapore Zoo, East Coast Park, Chinese Garden, Night Safari, Chinatown, Little India etc; apart from these they can also choose from a large range of drama theatres, movie theatres, arcades and shopping centres to experience different recreational activities.

Working in Singapore
The Immigration & Checkpoints Authority of Singapore (ICA) prohibits international students holding student visas from seeking jobs in Singapore during their time of study. For more information, please visit www.ica.gov.sg

Singapore's Housing Facilities
Arranging your accommodation is a crucial step in planning your overseas education in Singapore. You should arrange suitable accommodation before reaching Singapore. This is extremely important as you would be sparing up more time that would be required to handle other compulsory procedures upon reaching Singapore. For example, health check-ups, applying for and collecting your student pass, opening a bank account, student management matters etc. There are many matters to settle before the official start of your school semester.

Cost of Living in Singapore
When you are in Singapore for the first time, before opening a bank account, you need to have sufficient cash or traveller's checks to pay for some living expenses. There are money changers located conveniently in many parts of Singapore where you may exchange currencies of various countries.
Annual cost of living in Singapore is estimated at SGD$10,200 - $23,400.
Accommodation expenses: SGD$400 - $1000/mth
Food expenses: SGD$200 - $400/mth
Public transport expenses: SGD$100 - $150/mth
Personal expenses: SGD$150 - $400/mth
Total monthly expenses: SGD$850 - $1950
Total yearly expenses: SGD$10,200 - $23400
Note: The living expenses listed above are estimated figures and only for guiding reference. Living expenses are dependent on type of accommodation and lifestyle requirements and hence varies from person to person.

We wish you in advance a pleasant international student experience in Singapore!